Data Warehouse Automation (DWA)
Data Warehouse Automation at its best. All SQL code is generated automatically. Any change to existing or new functionality is just one click away.
Now you can enjoy the best of both worlds: content and flexibility.
BI4Dynamics is a DWA tool for accelerating and automating the data warehouse development cycles while assuring quality and consistency. It helps improve productivity, reduce cost, and improve overall quality. In addition to this, BI4Dynamics distinguishes from all other DWA tools by following features:

Modelling is based on metadata
BI4Dynamics Data Warehouse Automation (DWA) process is build based on the D365(AX)/NAV metadata. This powerful concept ensures that all properties such as fields types, table relations, primary keys, etc. are intuitively entered to the user interface.  Because of this, you can create Enum based scripts in D365 (AX) or option fields from NAV fast and accurate. This brings customization of Data Warehouse to a completely different level and significantly improves users productivity.
100% open SQL scripts for modifications
DWA generates SQL scripts (T-SQL, XML) that are 100% open for any modification. Sections separated by placeholders structure all SQL scripts. Because of this users have control and understanding when doing manual customisations.
Mix automatically generated and manual SQL code
Inserting manual SQL code to DWA generated SQL script is a feature that supports further DWA generation of the same script and preserving manual code intact.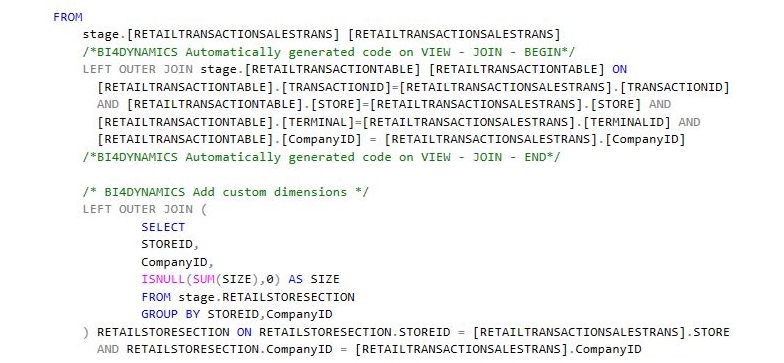 Last minute change? No worries. Complete documentation in the form of a White Paper is generated automatically with a click of a mouse. Documentation delivers all technical details about Data Warehouse architecture, Data Warehouse and OLAP Cubes formulas, dimension hierarchies, top tables information and even execution times of top procedures.