Business Intelligence for Microsoft Dynamics
Being 15 years in Business Intelligence for Microsoft Dynamics, having experience from 1,000 projects around the globe,
we build a plug-and-analyze BI solution that covers more than 80% of your analytics requirements.
Regardless of
Microsoft Dynamics version
BI4Dynamics can deliver a complete BI solution in a matter of days.
a number of companies & databases
deployed in cloud or on-premises
size, industry, or complexity of your business
Superior out of the box BI developed, especially for Microsoft Dynamics.
Unparalleled flexibility that allows your team to be in control of the BI project.
Complete Business Intelligence solution is ready from the first day of deployment.
Finished Business Intelligence project in days, not months
BI4Dynamics can deliver a complete BI solution in a matter of days regardless of your company size, industry, or complexity.
It supports all versions of Microsoft Dynamics. No matter if they are running in the cloud or on-premises.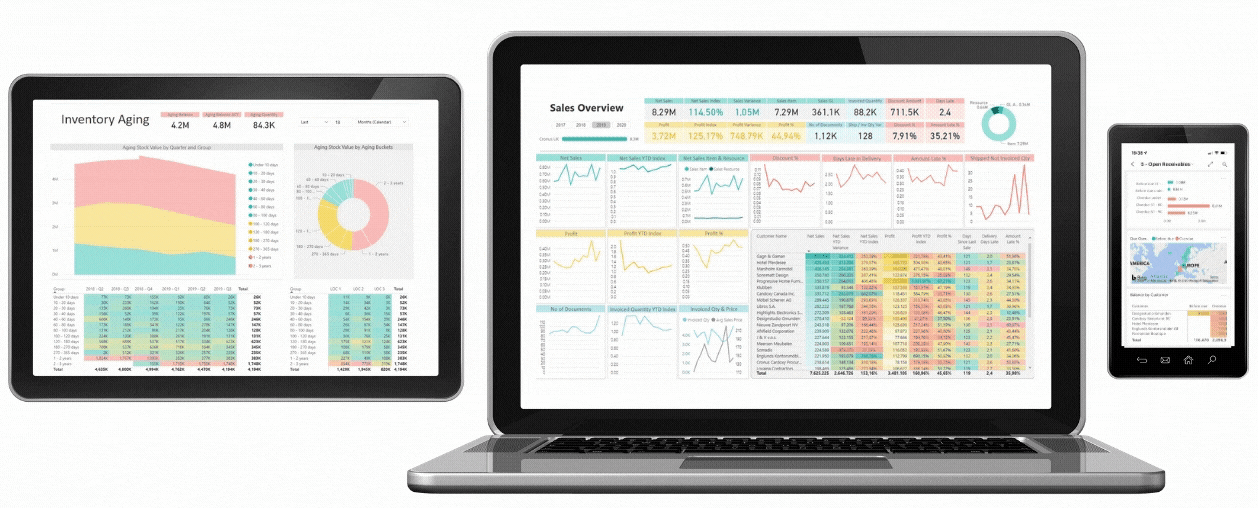 Solution, not a Project
BI4Dynamics is developed especially for Microsoft Dynamics and is ready to give you meaningful results in a couple of clicks. The very next day after the installation of BI4Dynamics you will have access to more than 2.000 BI Fields (KPIs) that can be easily accessible using predefined Power BI or Excel dashboards.
Power BI Reports and Dashboards
Take advantage of our 150 Power BI Dashboards – Desktop and Mobile – that are ready-to-be-deployed over BI4Dynamics solution on top of your Microsoft Dynamics ERP.
Excel Reports
BI4Dynamics comes with predefined Microsoft Excel reports. These reports come in handy for the operational tasks and ad-hoc situations where we want to find more insight out of our business trends. Take advantage of BI4Dynamics dimensions, measures, and attributes to analyze your data without spending the time for preparation.
Covers all application areas
BI4Dynamics offers best-in-class modules to be on top of your business. Sales, Receivables, Finance, Inventory, Purchase, Payables, Manufacturing, Retail, Projects, Services, etc.
Unmatched Flexibility to Support your Business
Metadata-based wizard-driven development is simple, accurate, and very fast. Modeling requires Dynamics knowledge (what you want) and not technology skills (programming language, SQL code). A corporate data warehouse and tabular model are created by generating a million rows of SQL code with an automated process of delivering BI.

The Flexiest Data Warehouse
BI4Dynamics simplifies development to an unseen level. Automatically generates tens of thousands of rows of SQL code that builds a corporate data warehouse,  cubes, and project documentation with a click of a mouse. BI4Dynamics generates SQL scripts (T-SQL, XML) that are 100% open for modification.
Multiple Data Sources & Versions
BI4Dynamics support joining any combination of data sources from NAV 4 to BC 17 and from AX 2009 to FO in the same instance. It eliminates Microsoft Dynamics upgrade issues because you can analyze new and archived databases directly from BI4Dynamics Data Warehouse.
Revolutionary Customizations
Complete BI Project can be either customized or further developed in five wizard-driven steps. You are using the same tool as our developers when they were rebuilding the BI4Dynamics solution. If needed you can mix automatically generated and custom SQL code and still use customization tool with no limitations.
Multiple Companies & Currencies
BI4Dynamics supports wizard-driven adding multiple companies to one Data Warehouse. That empowers you to analyze data by Global dimensions across each company, group of companies, or unified over multiple currencies with help of additional currency for reporting.