Inventory Dashboard for Microsoft Dynamics
Take a tour of the BI4Dynamics Inventory dashboard available for you to stay on top of your Inventory and other connected areas,
like Sales, Purchase, etc. Easy, Fast, Affordable Business Intelligence for Dynamics Users!
Your ultimate Inventory Dashboard in Power BI!
Master your inventory with intelligent aging buckets, analyze the cost, quantities, and dynamics of your inventory.
Sky-is-the-limit measures and dimensions you can combine to have detailed insight into how your inventory is performing.
All in one Inventory Dashboard that you can modify to adopt your business needs with drag-and-drop in Power BI.

Save the time and money spent 

on 

creating & maintaining reports.

Get setup in less than a day with a plug-and-play data warehouse.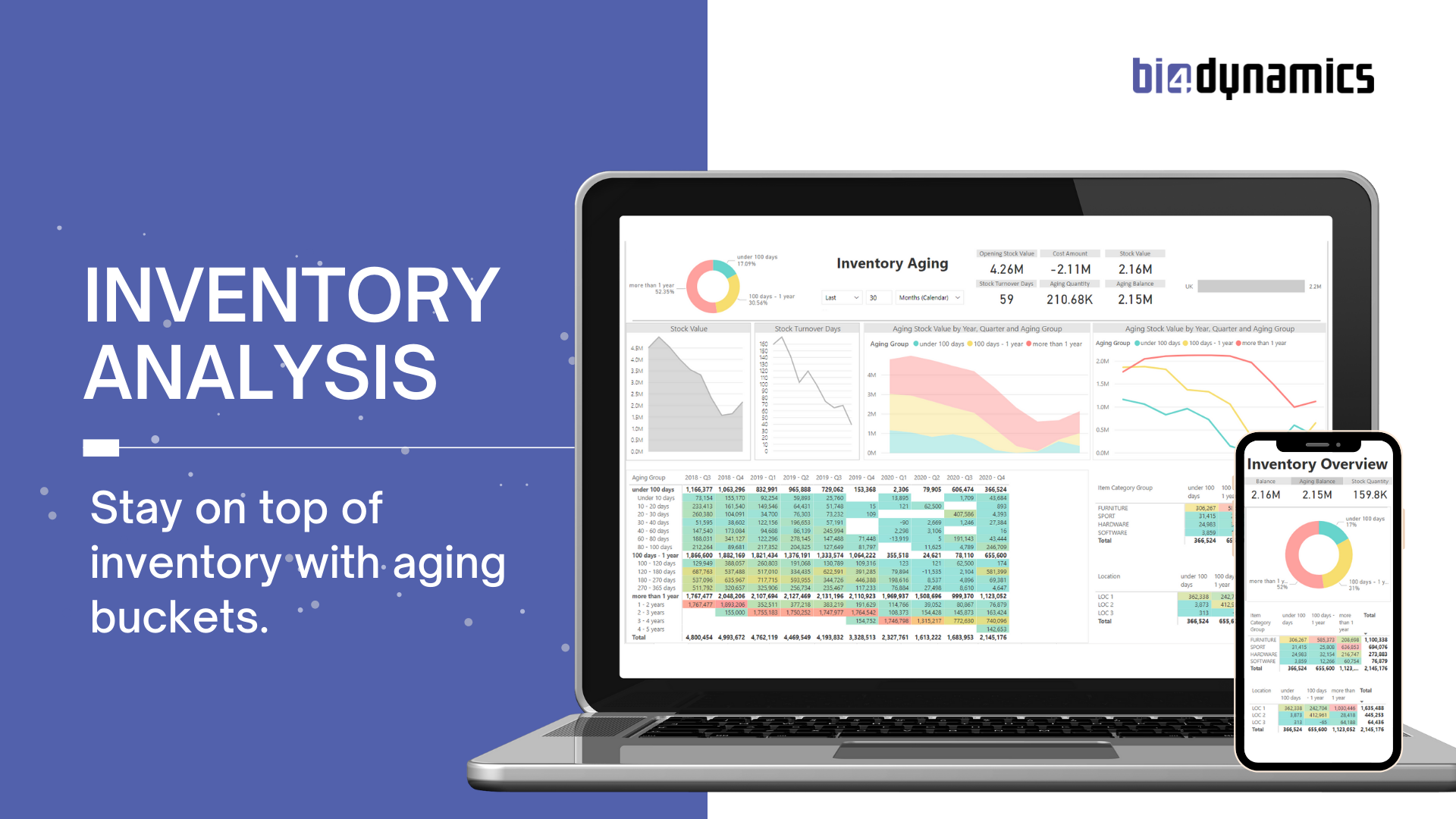 Power BI Dashboards are part of BI4Dynamics out-of-the-box offering.
Inventory area comes with 124 measures organized in 4 measure groups.
Measure groups are sharing 18 dimensions with 174 attributes in 16 hierarchies.
Experience Inventory dashboard in action
Interactive Power BI reports made on top of BI4Dynamics data base.
Unlock The Full Power of Your Dynamics Data
Contact us directly for any questions you might have.
Here's what you can expect from BI4Dynamics
Efficient and reliable analytics for Dynamics
Out-of-the-box Business Intelligence solution for over 150+ reports.
Seamless Data Integration for your Dynamics data with non-Dynamics external sources.
Unparalleled flexibility and scalability using BI4Dynamics Data Warehouse.
Access data instantly with over 2000+ BI Fields (KPIs).
Optimize costs by avoiding custom BI projects.
Customize with ease without the need for coding knowledge.