BI4Dynamics and Power BI are the perfect match.
BI4Dynamics and Power BI have strengths and weaknesses. It may look that they compete against each other but in fact they work perfectly together. Using BI4Dynamics Data Warehouse and OLAP Cubes as a source of transformed Microsoft Dynamics AX/NAV data and Power BI for basic modelling and as a mobile and web front end, is a winning combination.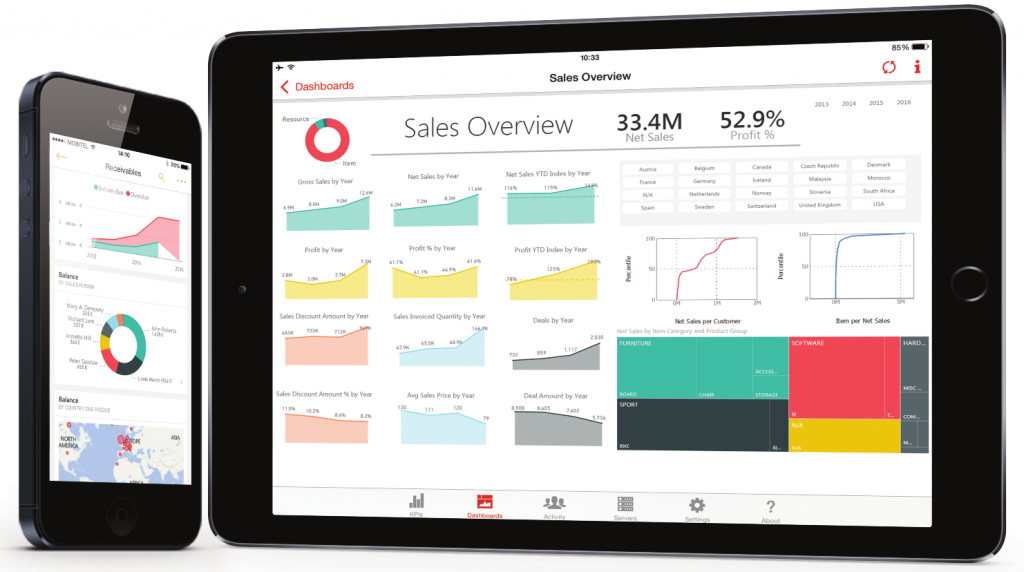 Microsoft Dynamics data needs to be transformed by BI4Dynamics to Data Warehouse and OLAP cubes.
Both corporate Business Intelligence data sources can be used for:
Direct detailed insights on web and mobile devices (using prebuilt dashboards made by BI4Dynamics) and additional visualization (using Power BI front-end).
Extending existing data model can be done by modeling with Power BI. Although BI4Dynamics (SQL) Data Warehouse enables advanced data transformations that can't be done with Power BI. On the other hand Power BI can greatly extend the usage of BI4Dynamics Data Warehouse and OLAP Cubes by integrating additional sources to Power BI data model. If external sources are more complex, it may be considered to add them to Data Warehouse first.
Power BI for Mobile and Web Access
For best Power BI experience we created a set of Power BI reports based on BI4Dynamics standard functionality of data warehouse.
By clicking on the picture new page with Power BI live report will be opened. It might take a while.
Available reports:
Sales, Receivables, Inventory, Purchase, Payables
Power BI is part of a free trial. Free trial includes:
All BI4Dynamics AX or NAV modules including Customization Wizard and Power BI reports.
Installation on your infrastructure.
2 hours walk-through session with BI consultant where we will give you better insight into your company data by using BI4Dynamics. You will also get advice how you can improve your Microsoft Dynamics tables and setup (attributes, hierarchies, account schedules) to fully benefit with BI. We've done it hundreds time, we will do it for you too.