Last minor BI4Dynamics BC release – January 2023
New features in version 9.3
Multi-tenant support: integrate BC from different tenants and environments.
Incremental update for BC Cloud: Improved performance.
MFA and Client secret for Azure Analysis Services and Power BI Service.
Calculation groups: Add any calculation group table to the tabular database.
New Power BI reports
Across all business areas available for demonstration and implementation
Coming soon!
With version 10 we will celebrate our 10th anniversary. Be ready for amazing integrations of Power Query and Power BI Datamart with BI4Dynamics.
BI4Dynamics BC Cloud – January 2022
Get Enterprise service for SMB price
Publish your BI4Dynamics Analytics to Power BI Premium, a superset of Azure Analysis Services.
Pay 20 USD / month for a 100 GB database model, 48 daily refresh, paginated reports, and unparallel flexibility.
Add any 120+ Power BI connectors to your corporate model
Use enterprise-grade BI4Dynamics solution, published to Power BI Premium.
Select any of the 45 transactional and 135-dimensional tables to your model.
Any other data 120+ Power BI connector into the Power BI report model.
Publish to Power BI service and share your personal /departmental model with your team.
This is a true convergence of corporate and personal BI.
BI4Dynamics BC Cloud – November 2021
Use Direct Query to add any 120+ Power BI connectors into BI4Dynamics Analytical Model
Microsoft drastically improved integrating external data sources to Azure Analysis Services using Direct Query in Power BI. This empowers us and our customers to bring:
Any other data source into the BI4Dynamics model
or just use some BI4Dynamics tables to further build BI projects in Power BI.
When the connection is changed from Live to Direct Query, the BI4Dynamics model is copied to a local Power BI file. On the direct query Power BI file, we can extend the model with any other source
Features
Support for BC 19 (Business Central 2021 Wave 2).
Permissions copied from BC Cloud to analysis database (local and azure).
Cashed data source information improves loading and processing time.
Dimension updates only selected fields for faster processing (fields that don't change are skipped).
One-click copies global dimensions from one company to all selected companies in setup instance.
Content
Account schedule can be filtered by 4 global dimensions totaling defined in an Account schedule
Out of stock measures (1,7,14,30 days) for count and percentage of items
YTD fiscal calculations were added to support the calendar and fiscal date at the same time.
BI4Dynamics BC Cloud – August 2021
Major improvments in BI4Dynamics BC Cloud stability and funtionality. Redesign of Power BI Dashboards and setup of Power BI demo. Check Sales Dashboard >>
BI4Dynamics BC Cloud – May 2021
#1 Join BC Cloud with your legacy BC or NAV
BI4Dynamics can join BC Cloud with your legacy BC or NAV in one fully integrated BI solution. The First selected source in BI4Dynamics must be BC Cloud. Any On-Premises version of BC or NAV can be added optionally.
#2 Deploy DW on Azure Virtual Machine on On-premises
The data warehouse can be implemented on Azure SQL Virtual machine (VM) or On-Premises.
Use Virtual Machine when company strategy is cloud.
Use On-Premises when the hardware is available On-Premises.
#3 Analytics can run on the same PC or as Azure Service
Analytics can be implemented on the same PC (VM or On-Premises) or as an Azure service.
Use the same PC when PC is available or costs for PC are low.
Use Azure when cloud performance, scalability, and flexibility matter.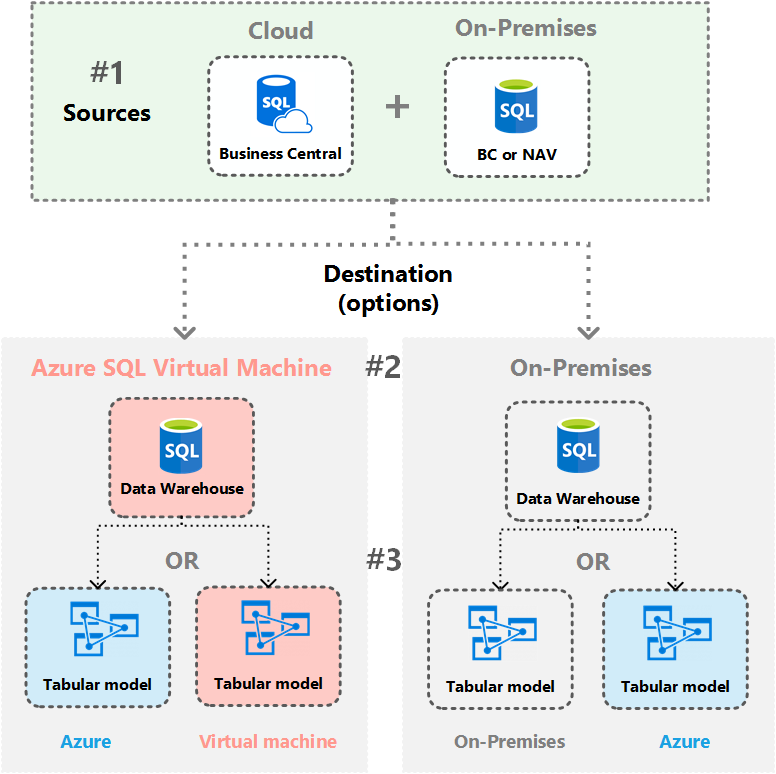 BI4Dynamics BC Cloud – January 2021
No Compromise between content and performance
BI4Dynamics has the fully automated process of delivering Business Intelligence solution for D365 Business Central that ensures:
No compromises on BI content over services
Get 1.500 BI fields covering all business areas immediately.
Crunching any data size
Any data size can be processed delivering details on a document level.
Saving money for Azure subscriptions
Azure resources are chosen wisely and are paused when not in use.
Faster querying for best user experience
Data are in memory, so querying in Power BI or Excel is very fast.
With BI4Dynamics you get the best Business Intelligence content and total flexibility.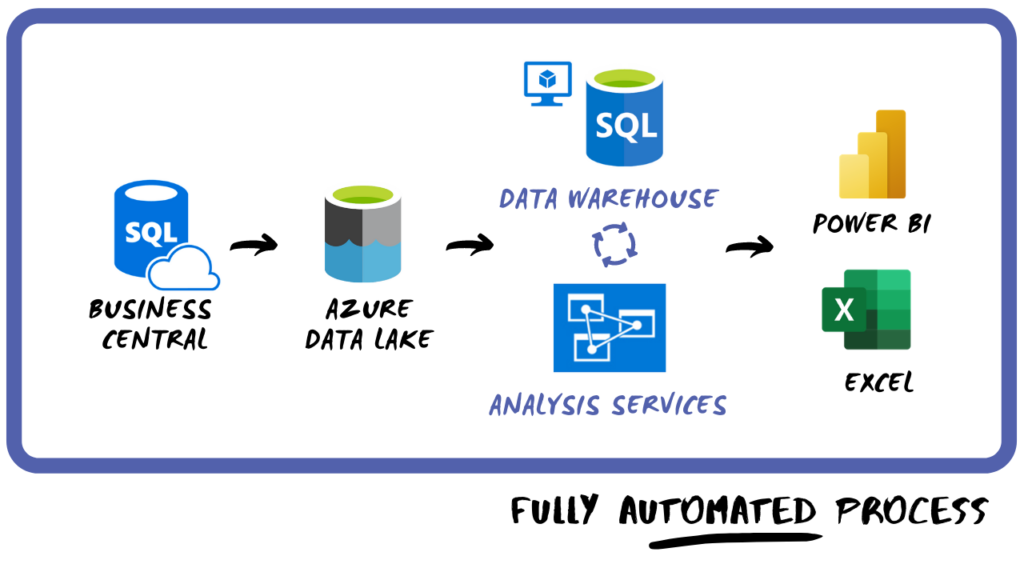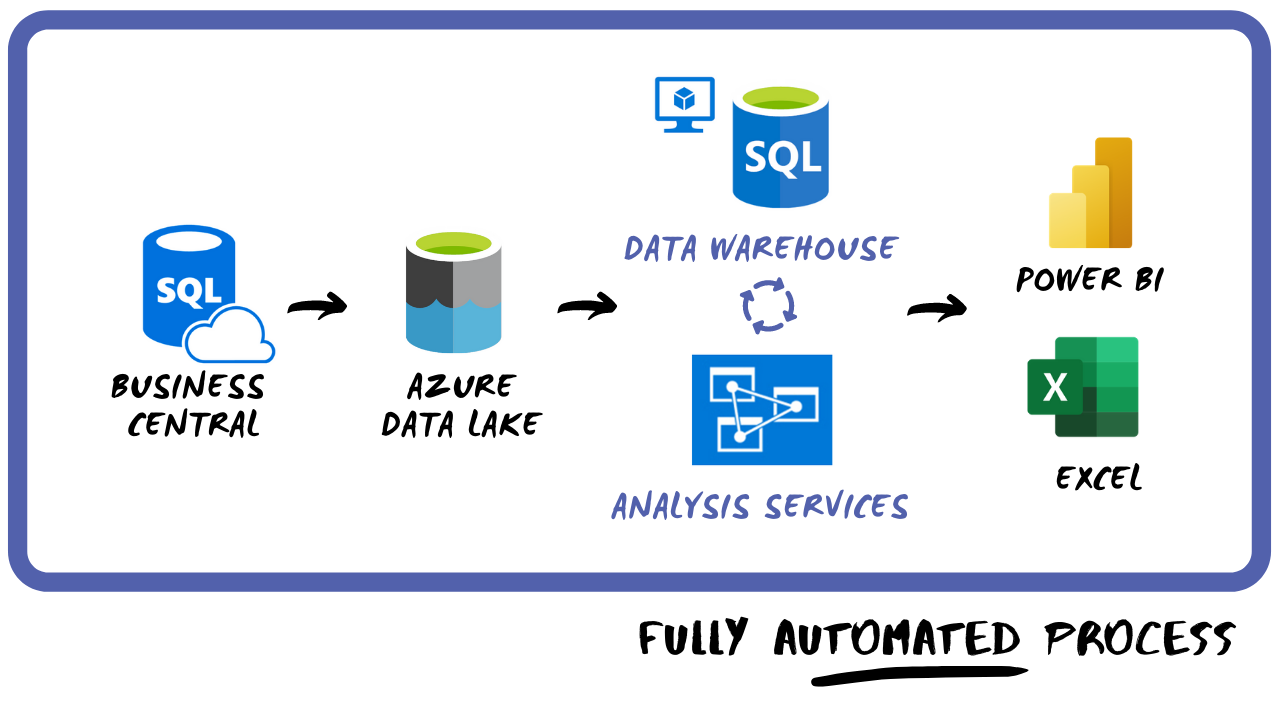 BI4Dynamics BC 8.03 – December 2020
ACCOUNT SCHEDULES IN TABULAR MODEL
Account Schedules, where users can create their P&L and BS reports is the #1 reporting feature in the Financial module. The handicap of reporting is that reports cannot be consumed live in Excel or any other BI tool with full flexibility and permissions. BI4Dynamics overcomes limitation and brings the following:
Account Schedules available in Tabular model.
Full flexibility in using analytical BI dimensions (date, company, 20 global dimensions …) in designing reports with any BI client (Excel, Power BI).
Creating up to 50 time-intelligence measures based on 1 base measure.
Drill-down to the document level; in BC this is possible only by navigating through many forms.
Setting up permissions on row level; using Account Schedule KPI Web service this is not possible.
This functionality was difficult to develop as the Tabular model does not support Custom Rollup feature that is usually implemented in such scenarios.
CREATE OR UPDATE TRANSACTIONAL TABLE AS A FULLY ISOLATED PROCESS
Update Fact feature enables creating, deploying, and processing new facts as separated, fully isolated processes without affecting existing objects. Now one can add fact in a new cube or to an existing cube. Deploy, and process the solution, while data in the data warehouse and the tabular database will be unchanged. This is welcomed when implementation time is crucial or when large datasets require more time to update.
BI4Dynamics BC 8.0 – October 2020
This is a first 64-bit release that introduces Tabular Model for Analysis Services. The solution is faster in processing, faster in querying (browsing data), and easier to modify compared to Multidimensional. Users can choose Tab or MDX model on top of the Data Warehouse. Partners are invited to preview the Cloud-based solution.


BI4Dynamics BC 8.0

System Requirements
BI4Dynamics NAV 7.6 – August 2020
Solution is now fully based on Table Names, previously on TableIDs. Feature supports integration tables with same TableID and different table names within a single BI4Dynamics instance that may occur when joining different BC/NAV versions.
Version 7.6 is an intermediate technical release before introducing version 8.0 Tabular (available in preview).
BI4Dynamics NAV 7.5 – May 2020
Microsoft Dynamics BC 16 is now supported in BI4Dynamics. BI4Dynamics version 7.5 ensures integration of different Microsoft Dynamics BC/NAV into one data warehouse from NAV 4 to BC 16. The new version is a foundation for next release of the tabular model.
BI4Dynamics NAV 7.4 – March 2020
We are bringing integration of different Microsoft Dynamics BC/NAV versions into one data warehouse to next level. All data source tables and columns are not present in all versions of sources. These columns are therefore added into instance, together with information of column data type. This feature makes upgrading BC/NAV very simple, as data are merged in BI4Dynamics. In one project we have successfully merged NAV 4 and NAV2018 into one fully functional data warehouse.
BI4Dynamics NAV 7.3 – March 2020
Minor improvements in Automatic documentation generation, managing indexes, database collations and content.
BI4Dynamics NAV 7.2 – February 2020
Columnstore is a must-have. 6 x data compression, 7 x faster Data Warehouse processing time, 8x shorter query time in Power BI. With our new version modeling extensions within Business, Central is as easy as it could be.
Request a free trial license key
FRAMEWORK
Added Columnstore.
Added Translations.
Added support for SQL 2019.
Support for Business Central 15 (wave 2).
Changes apply to DWA edition. System requirement: SQL 2016 Standard.
CONTENT
Added support for any combination of sources from NAV 2009 to BC 15 in the same instance.
Added and improved modules: Warehouse, Service, Job & Resources.
BI4Dynamics NAV 7.1 – July 2019
20 global dimensions, Cost Accounting, K3|pebblestone
FRAMEWORK
Updated support for NAV Extensions
Store procedures with process flow property
CONTENT
20 global dimension available (DWA edition)
Added Cost Accounting to GL cube (standard)
Added Pebblestone cube (vertical)
Updated LS Retail cube (vertical)
Note: We have changed "StageTimestamp" column format from binary to bigint. This will enable Clustered column store index for DW tables in a future release. When upgrading from any previous version, a new instance has to be created.
BI4Dynamics NAV 7.0 – May 2019
Data Warehouse Automation (DWA) is the most crucial part of our development strategy. In this BI4Dynamics BC (NAV) release, all SQL code is generated automatically. Any change to existing or new functionality is just one click away. We rebuilt the complete BI solution from scratch. A result in DWA edition is the same content as in our Standard edition that has been developed over the years. Now you can enjoy the best of both worlds: content and flexibility.
Click to watch webinar recording on the Data Warehouse Automation.
Data Warehouse Automation at its best
Modeling is based on metadata (AOT)
BI4Dynamics collects all AOT information about tables, enums and generates BI structures much faster and without errors. This significantly improves user's productivity.
No code development, no SQL knowledge needed
Development is done through an intuitive user interface by selecting AX objects (tables, fields) and applying right names to BI objects (dimensions, measure). The rest is taken care by BI4Dynamics code generator.
All code is 100% open for further modification
Sometimes it is necessary to add a specific SQL code into the existing script. This feature supports further DWA code generation of the same script and preserving manual code intact.
One click documentation generation
Complete BI project documentation is generated with a click of a mouse. It includes details about architecture, formulas, hierarchies, as well as Top tables by size and Execution times of top procedures.
Keeping all Data Warehouse features
Built specifically for Microsoft Dynamics BC (NAV) business
Expandable to complex data models with many entities
Scalable for larger databases with intensive daily processing
A single point of truth for corporate reporting
BI4Dynamics NAV 6.4 – November 2018
BI4Dynamics latest release brings easy integration of external data sources into BI4Dynamics.
INTEGRATING EXTERNAL DATA TO BI4DYNAMICS
Create SSIS packages to add any data source type (SQL, Excel, text, and other).
Fine tune SQL scripts to fit BI4Dynamics Data Warehouse concept.
Add SSIS package to the BI4Dynamics process flow.
Create a new cube based on tables from external data with the Wizard.
FRAMEWORK
Added integration of external data sources.
Added management for deploying stage.
WIZARD
Added support for all data warehouse schemas.
Added management of tables from external data source that don't have CompanyID or primary key.
BI4Dynamics NAV 6.3 – July 2018
BI4Dynamics latest release brings even better Customization and Development wizard and new BI content across all application areas
CONTENT
Adding dimension Item Variant to Sales, Purchase and Inventory cube.
Added attribute Posting description to dimensions to documents (Sales, Purchase, GL, Receivables, and Payables).
GL cube: added dimensions VAT Business Posting Group, VAT Product Posting Group, General Posting Type.
Sales cube: added dimensions Return Reason Code.
Updated French and Spanish translations.
WIZARD
Availability to add tables from Help, Setup, Dim, Fact and Metadata schemas (before Stage Schema was available to add) in Wizard functionality for building cubes and dimensions.
Improved translation management.
FRAMEWORK
Improved reading NAV objects in a multitenant environment.
Stabilized SSIS process flow and SASS partition management.
BI4Dynamics NAV 6.2 – March 2018
BI4Dynamics latest release brings Enterprise BI features with partition-based processing, editable process flow and other performance and development features.
KEY CORPORATE FEATURES
Partition based cube processing
Partial data-based processing that enables up to 90% faster cube processing. Users can set 3 partitions – current, intermediate and archived.
Editable process flow
To support adding external data source BI4Dynamics process flow is flexible and enables adding new SSIS packages.
ADDITIONAL FEATURES IN THE LATEST RELEASE
Inventory state redesign: Measures are based on a data warehouse.
Setup execution log: Monitor execution time and table inserts in Power BI.
Folder translations: Translation option added to the Wizard.
BI4Dynamics NAV 6.1 – January 2018
This release adds support for Microsoft Dynamics NAV 2018 (Application, Metadata, Multitenant).
FRAMEWORK
Built on latest .NET framework 4.7.1 to support the latest Microsoft technologies.
Added full support for SQL 2017.
CONTENT
Added support for NAV 2018 (Application, Metadata, Multitenant).
WIZARD
Added fully editable 12 dimensions (total 16): Business Unit, Currency, Customer, Fixed Asset, GL Account, Item, Job, Location, Reason Code, Resource, Resource Group, SalespersonPurchaser, Shipment Method, Shipping Agent, Source Code, Vendor.
Added Filter on loading data into Fact (WHERE condition).
Added Many-to-Many (dimension: measure group) relation in a cube.
BI4Dynamics NAV 6.0 (November 2017) with Wizard 2.0
Create new or edit existing cubes, dimensions and measures through the simple 5 step process that is based on Metadata and supports the many-to-one concept (source-to-destination table).
Build New Cubes and Data Warehouse
Create new cubes and data warehouse covering your specifics in Microsoft Dynamics NAV (or vertical BI solution) without prior SQL knowledge.
Customize BI Solution with Wizard or Manually
Add fields to the existing solution. Mix and match. Wizard or manual generated code. All inside one BI solution. Customization and development have never been easier.